The province of Ontario has a great Open Data Initiative. While their online portal is very easy to use, I thought I'd practice my scraping skills and create my own organized dataset of available datasets. Extracting information from the webpage is pretty easy using the rvest package.
library

(

rvest

)




library

(

dplyr

)




library

(

ggplot2

)




library

(

ggthemes

)



Once packages are loaded, we specify the link we want to scrape from. Ontario has done a nice thing by letting all of the available datasets load on a single page; it took some trial and error, but I hit on a URL that gets them all listed together.
open.data 

<-

 

"https://www.ontario.ca/open-data?query=&lang=en&type=dataset&pages=52#load510"



Once the URL is loaded we are away to the races. The easiest way to find css (or xpath) tags for the relevant information on the page is using a Chrome plugin called SelectorGadget. The steps below extract title, description, date, source, and link information from the list.
# Titles


title 

<-

 open.data 

%>%


  read_html

()

 

%>%


  html_nodes

(

css 

=

 

'#search_results a'

)

 

%>%


  html_text

()


title 

<-

 data.frame

(

title

,

 stringsAsFactors 

=

 

F

)





# description


desc 

<-

 open.data 

%>%


  read_html

()

 

%>%


  html_nodes

(

css 

=

 

'.search_dataset_description'

)

 

%>%


  html_text

()


desc 

<-

 data.frame

(

desc

,

 stringsAsFactors 

=

 

F

)





# date published


date 

<-

 open.data 

%>%


  read_html

()

 

%>%


  html_nodes

(

css 

=

 

'.search_dataset_description+ .search_dataset_result_left'

)

 

%>%


  html_text

()


date 

<-

 data.frame

(

date

,

 stringsAsFactors 

=

 

F

)





# source


source 

<-

 open.data 

%>%


  read_html

()

 

%>%


  html_nodes

(

css 

=

 

'.search_dataset_result_right:nth-child(4)'

)

 

%>%


  html_text

()


source 

<-

 data.frame

(

source

,

 stringsAsFactors 

=

 

F

)





# link


link 

<-

 open.data 

%>%


  read_html

()

 

%>%


  html_nodes

(

css 

=

 

'#search_results a'

)

 

%>%


  html_attr

(

name 

=

 

"href"

)


link 

<-

 data.frame

(

link

,

 stringsAsFactors 

=

 

F

)


base_url 

<-

 

"https://www.ontario.ca"


link

$

link 

<-

 paste0

(

base_url

,

 link

$

link

)



Once we have all of the information we want to extract, it R makes it simple to combine and then clean them up a little bit. In this case cleaning means isolating the year of publication and focusing in on the non-repetitive information in the source column:
open.data 

<-

 cbind

(

title

,

 desc

,

 source

,

 date

,

 link

)



open.data

$

date 

<-

 sapply

(

strsplit

(

open.data

$

date

,

 split

=

': '

,

 fixed

=

TRUE

),

 

function

(

x

)

 

(

x

[

2

]))


open.data

$

release.year 

<-

 sapply

(

strsplit

(

open.data

$

date

,

 split

=

' '

,

 fixed

=

TRUE

),

 

function

(

x

)

 

(

x

[

2

]))


open.data

$

source 

<-

 sapply

(

strsplit

(

open.data

$

source

,

 split

=

': '

,

 fixed

=

TRUE

),

 

function

(

x

)

 

(

x

[

2

]))



write.csv

(

open.data

,

 

"ON_opendata.csv"

)



I won't take it much further than that, but the last step above creates a .csv that you are welcome to explore yourself (available here). I'll finish with a little metadata visualization: first, a figure that shows what parts of the Ontario Public Service are contributing to the database:
source.counts 

<-

 count

(

open.data

,

 source

)



ggplot

(

data 

=

 source.counts

,

 aes

(

x 

=

 reorder

(

source

,

 n

),

 y 

=

 n

,

 label 

=

 n

))

 

+


  geom_text

(

size 

=

 

3

)

 

+


  labs

(

x 

=

 

""

,

 y 

=

 

""

)

 

+


  coord_flip

()

 

+


  ggtitle

(

"Sources of Ontario Data"

)

 

+

 
  theme_few

()

 

+


  theme

(

strip.background 

=

 element_blank

(),

 
        strip.text 

=

 element_blank

(),


        axis.ticks 

=

 element_blank

(),


        axis.text.x 

=

 element_blank

())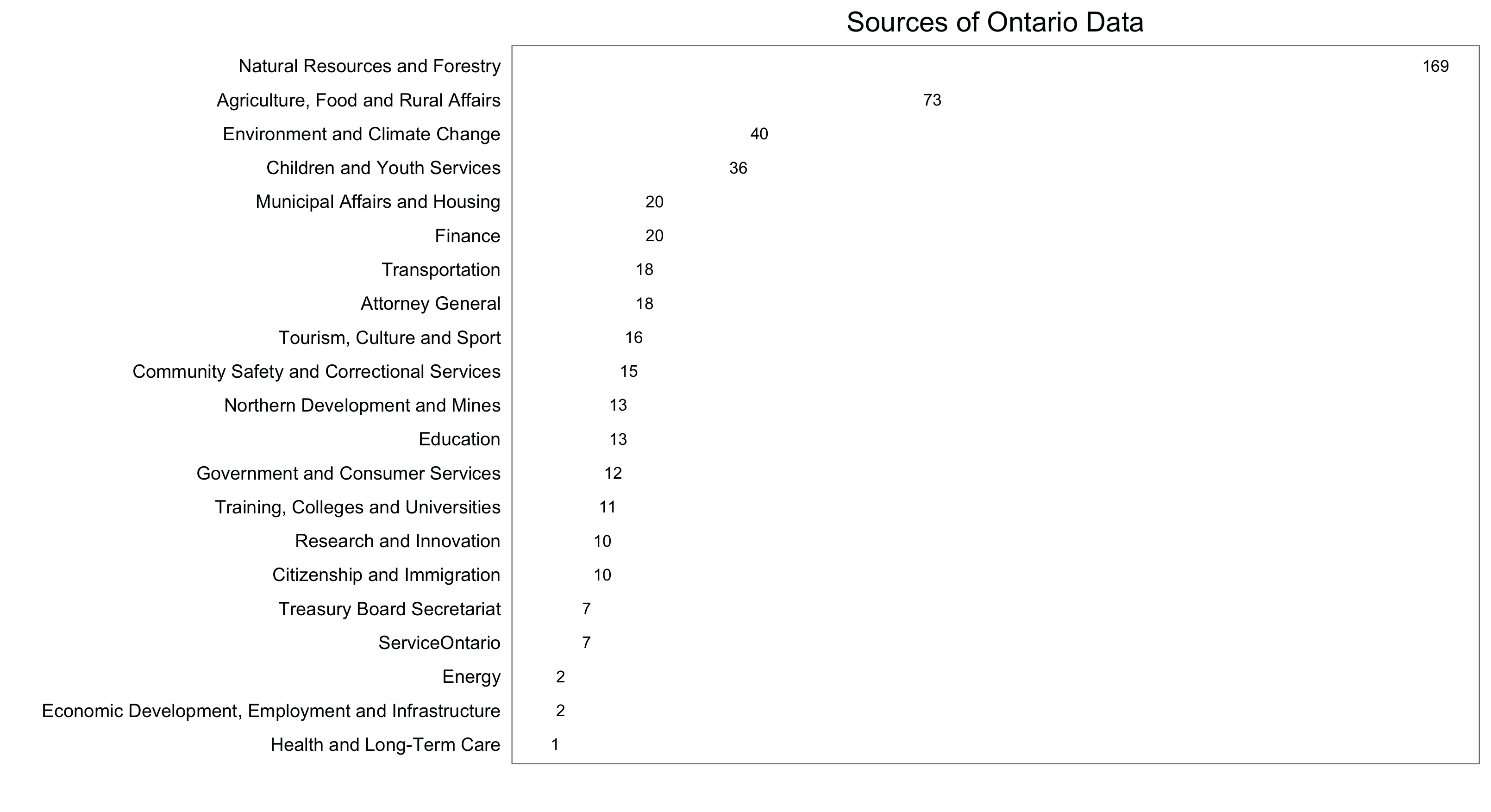 And second, a simple bar chart showing the number of datasets in the database by release year:
year.counts 

<-

 count

(

open.data

,

 release.year

)



ggplot

(

data 

=

 year.counts

,

 aes 

(

x 

=

 release.year

,

 y 

=

 n

,

 label 

=

 n

))

 

+


  geom_bar

(

stat 

=

 

"identity"

)

 

+


  geom_text

(

aes

(

label 

=

 n

),

 vjust

=

-0.30

)

 

+


  labs

(

x 

=

 

""

,

 y 

=

 

""

)

 

+


  ggtitle

(

"Datasets released annually in Ontario"

)

 

+

 
  theme_few

()

 

+


  theme

(

strip.background 

=

 element_blank

(),

 
        strip.text 

=

 element_blank

(),


        axis.text.y 

=

 element_blank

(),


        axis.ticks 

=

 element_blank

())